Modern men's lifestyles include effective personal grooming practices, and a barber shop is a go-to place. Your barber would be one of the most influential people in your life because they care for your hair and beard like no one else.
Taking care of yourself, regardless of your gender, is a crucial element of looking and feeling your best. Self-care shouldn't be limited to any one gender, and there are several ways men can become the best version of themselves without losing touch with their masculinity.
Keep reading to discover how we can help you look better while expressing your masculine identity. Our barber services in NYC are the best in town, and our team of barbers NYC is professional, vetted, and well-prepared.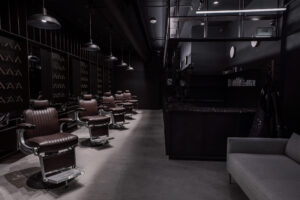 Top of the Line Barber Service in NYC
Before you end up going to any random barber in town, read what we offer so you can get the best barber services in NYC.
Cleaner Look
When it comes to facial hair, we know what suits your face shape and features. Our barber will talk to you and figure out what you have in your mind. If you have a beard and want to keep it, we will help you trim it to a length that suits you. We also advise maintaining beard health with oils and serums, especially for beard hair.
We also have a style book where you can look at several styles of beards to decide which one looks better on you. Ask a close friend or family member for advice, or ask our barber for help.
Here are a few suggestions to go about:
If you don't want to keep a beard, remove the stubble. While stubble suits some, it can make you look tired and unclean. Shave your stubble off and follow up with aftershave or soothing serums that prevent skin rashes. We will help you get a free application of serum.
Along with getting a haircut, get your nose hair trimmed. It's essential to keep your nose and ears clean by removing excess hair and using earbuds.
One of the most important things you can do to appear cleaner is to get a hair wash. Our expert barber can help you get a hair wash; we also ensure to use a good conditioner to make your hair look cleaner.
As for fragrance, we invest in a scent that is not overpowering but remains throughout the day. So next time you come for a barber service in NYC, check out our range of collection of hair products. We got something for everyone.
Hair Cut For Everyone
You must have heard people with curly hair face the most challenges when getting a haircut or hairstyle. But not with us; we make sure you get the best possible advice and services from our team of barbers, no matter what hair type you have.
Here are some hairstyles we swear by:
Slicked Behind
Ideal for wavy hair, this curly hairstyle is the easiest for men. We can do it through fingers or a wide-toothed comb. By slightly dampening your hair and using a styling gel, we will only stroke fingers through your hair, and here you are ready to rock.
The Quiff
Your wavy quiff is exactly like it sounds. This voluminous hairstyle features trimmed back and sides with all your hair facing upward. If you have thicker curls, you may have to practice this hairstyle before getting your desired look.
Side Parting
Some hairstyles never go out of fashion, and side parting is one of them; for a slightly longer curly hair side part, after figuring out which direction your curly hair naturally grows in, put and put your handsome curls on full display.
Though you need a fair amount of patience, practice, time, and dedication to styling your curls, in the end, it's all worth it. So why not give it a try?
Barber Services Beyond Haircut
While most skincare products work well on male and female skin, every individual's skin is different. Most barbers don't care and use just about any product on your skin which can harm your skin or cause pimples.
We are not your ordinary barbers. We not only determine your skin type but don't even use anything on your skin beyond its purpose.
After determining your skin type, ranging anywhere between oily, mixed, or dry, we find the right skincare products for your face and body. Our barbers also recommend investing in a good cleanser, moisturizer, and toner. Exfoliation is also a must; you can use a gentle scrub you can use to remove black or whiteheads.
Hygiene isn't limited to any gender. It's essential to stay clean no matter which gender you identify as in real life.
Here's how you can look and feel more hygienic:
Shower regularly
Shampoo and condition your hair at least twice a week. You can schedule an appointment at Master Class Barber, NYC; our experienced staff can help you get a hair wash just as you like.
Apply deodorant
Wash your face at least twice a day.
Trim your nails
Why Choose Us? Find The Best Barber Services In NYC
If you are still not sure why you choose us, here we give you some reasons:
Expert Team of Barbers: We have experienced professionals who have mastered their craft.
Customized Grooming: Barbers at Master Class Barber NYC take the time to listen to your preferences, offer personalized recommendations, and deliver the services that you need.
Customer Satisfaction: Your satisfaction is our top priority.
Exceptional Services: At Master Class Barber NYC, we pride ourselves on delivering premium services.
Best Place to Unwind: Come and relax in our modern, comfortable barbershop.